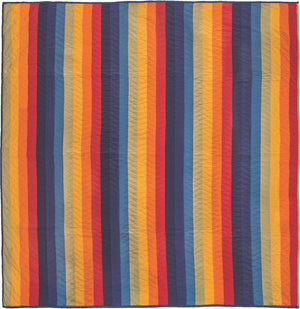 The Cartography of Quilts Exhibit
September 9–December 22, 2023
This exhibition will be on view at The George Washington Museum and the Textile Museum located at
701 21st Street NW in Washington, DC.
Contact: 202-994-5200  
http://www.museum.gwu.edu.
Quilts, like maps, trace the personal stories and experiences of makers and their communities, often illuminating larger historical events and cultural trends. Handstitched Worlds draws from the collection of the American Folk Art Museum, with examples ranging from traditional early-American quilts to contemporary sculptural assemblages.
About the Exhibition
Looking across city blocks and quilt blocks, roadways and seams, one can see a visible kinship between quilt making and cartography. Both are based on established systems that use color, pattern and symbols to establish a unique sense of order and balance. Quilts and maps are infused with history and memory, but are also living records of traditions, experiences, relationships, beliefs and future aspirations. 
Handstitched Worlds: The Cartography of Quilts invites viewers to read quilts as maps  that give shape to our world. Spanning the 19th to the 21st centuries, the exhibition brings together 18 quilts from the collection of the American Folk Art Museum, New York, representing a range of materials, motifs and techniques. Like a roadmap, these unique works offer a path to a deeper understanding of the American cultural fabric.
Among the diverse examples on display are a dazzling, improvisational star quilt created in 1977 by Alabama-based quiltmaker Nora McKeown Ezell (1917-2007), and a 19th-century Soldier's Quilt made from wool fabric used in the production of military uniforms. Contemporary highlights include a work by Afro-Creole artist Jean-Marcel St. Jacques, whose wooden quilts give new life to the remnants of Hurricane Katrina. 
Nora McKeown Ezell (Eutaw, Ala.), Star Quilt, 1977. Image courtesy of the American Folk Art Museum. Photo by Scott Bowron
Artist unknown (India), Soldier's Quilt, 1850-1875. Image courtesy of the American Folk Art Museum. Gift of Altria Group, Inc. Photo by Gavin Ashworth.
Jerry Gretzinger (Minn., N.Y.), Jerry's Map (E1/N1, Generation 11), 2009-2012. Image courtesy of the American Folk Art Museum. Gift of the artist. Photo by Adam Reich.
Community Quilt
Visitors to the exhibition are invited to contribute to our community quilt. Stitch a place in the cartography of Washington, D.C., that holds special significance for you.
This project is made possible through support from Barbara Tober in honor of Dr. Young Yang Chung.
Acknowledgements
This exhibition is organized by the American Folk Art Museum, New York, and toured by International Arts & Artists, Washington, D.C. Support for this presentation of the exhibition is provided by Norma and Ted Lonoff, The Coby Foundation, Ltd., Corinne M. Berezuk, Elisabeth R. French in memory of Mary French Fingleton, and Tina M. deVries.